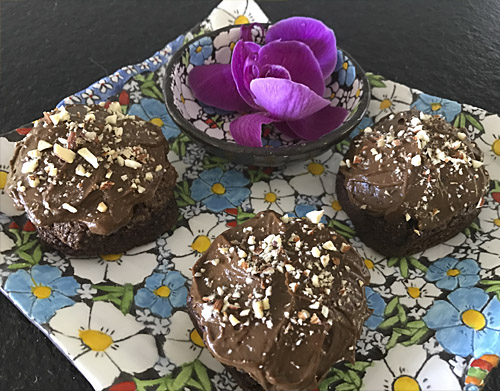 Avocado Brownies
Ingredients:
1 Large Ripe Avocado
2 Cups of Almond Meal Flour
1/3 Cup of Cocoa
1/2 Tsp. of Salt
1/2 Tsp. of Ground Cinnamon
1/2 Tsp. of Baking Soda
1/4 Tsp. of Baking Powder
3/4 Cup of Golden Brown Sugar
2 Eggs
Assembly:
Preheat oven to 350 degrees. Spray 8" X 8" baking pan with non-stick cooking spray.


Mix dry ingredients in small bowl. Whisk to blend.


Peel, remove seed, and dice avocado. Add to bowl of food processor fitted with a metal blade. Add brown sugar and process until smooth. Place avocado, sugar mixture into a large bowl. Add eggs and beat until mixture is light and fluffy.


Fold dry ingredients into avocado mixture. Stir until blended.


Place batter into prepared pan and bake for 35-40 minutes until toothpick comes out clean when inserted. Remove from oven and place on rack to cool.


Optional Chocolate Glaze:
Place 6Tbs. of icing sugar, 2 Tbs. of water, 2 Tbs. of unsalted butter, 2 ounces of semi sweetened chocolate in small heavy bottomed pan.
Whisk to blend and simmer over medium heat until the mixture comes to a boil.
Boil for 2-3 minutes until slightly thickened. Drizzle over cooled brownies.
Blue Heron Promotions Inc. © 2017. All rights reserved. Mobius Designs
Designed by: