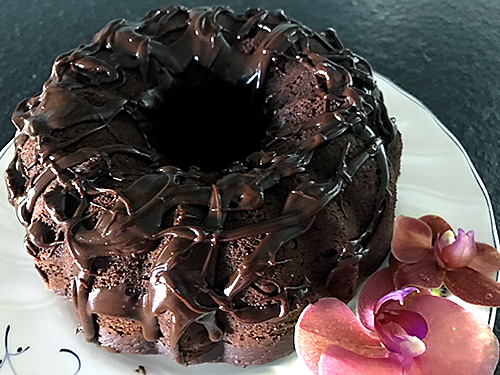 Avocado Chocolate Cake
Ingredients:
1-1/2 Cups of Unbleached Flour
3/4 Cup of Cocoa
1 Tsp. of Baking Powder
3/4 Tsp. of Baking Soda
1/4 Tsp. of Salt
1 Avocado, peeled, seeded and pureed
1 Cup of Pure Maple Syrup
3/4 Cup of Skim Milk
1/3 Cup of Avocado or Safflower Oil
2 Tsp. of Vanilla
Assembly:
Preheat oven to 350 Degrees. Grease a cake pan or bundt pan.


Whisk together dry ingredients in a medium bowl.


Whisk together wet ingredients in another bowl.


Gently fold wet ingredients into dry ingredients.


Place batter in prepared pan in upper third of preheated oven. Bake for 55 to 60 minutes until a wooden toothpick comes out clean when inserted into cake.


Allow to cool in pan. Remove from pan and drizzle with glaze.


Chocolate Maple Glaze:
Place 2 oz. of semi-sweet chocolate and 4 Tbs. of pure maple syrup in a small heavy bottomed pan. Whisk over low heat until chocolate is melted. Drizzle over cool avocado chocolate cake.
Blue Heron Promotions Inc. © 2017. All rights reserved. Mobius Designs
Designed by: