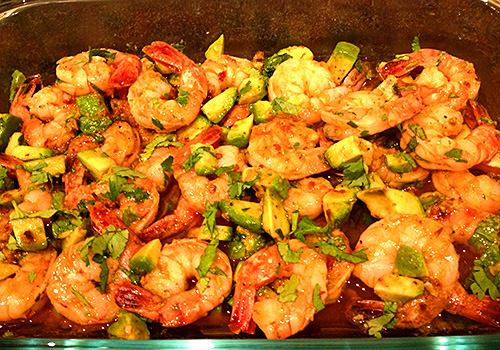 Roasted Chipotle Prawns with Avocado
4 Tbs. of Olive Oil
2 Tbs. of Vermouth or White Wine
2 Tbs. of Lime Juice
2 Tsp. of Pureed Chipotle Peppers in Adobo Sauce
2 Cloves of Garlic, crushed
Sea Salt and Fresh Ground Pepper
1-1/2 Pounds of Large Shrimp (26-30 Count), preferably wild, peeled and deveined
1 Large Avocado, peeled, seed removed, and diced
1/4 Cup of Chopped Fresh Cilantro
2 Tbs. of lime juice (added after baking)
Assembly:
Preheat Oven to 400 Degrees.


Combine olive oil, vermouth, lime juice, garlic, and pureed Chipotle Peppers in 9 X 13" Baking Dish. Whisk to Blend. Season with sea salt and fresh ground pepper. Place in upper third of preheated oven and bake for 10-12 minutes until oil is hot and fragrant. Remove from oven.


Rinse shrimp well under cold, running water. Pat dry with paper towels. Add the shrimp to the hot oil and toss using tongs until coated. Bake for 5 minutes. Remove from oven. Toss to turn. Return to oven and bake for 5 minutes longer. Remove from oven and add the peeled, diced avocado, chopped fresh cilantro, and 2 Tbs. of lime juice. Taste and adjust seasonings. Serve warm, as an appetizer, with fresh, crusty bread to dip in the flavourful oil, or as a main course served over couscous or brown rice.


Blue Heron Promotions Inc. © 2017. All rights reserved. Mobius Designs
Designed by: