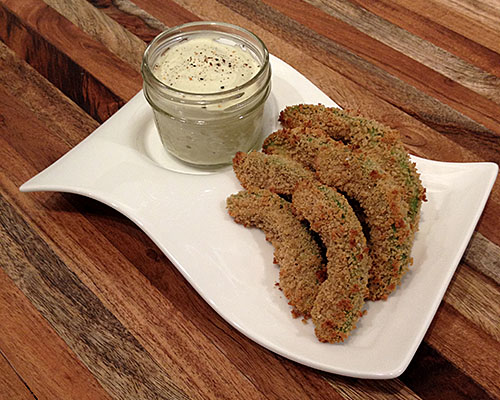 Panko Crusted Avocado Fries
2 Ripe Avocados
2 Egg Whites
2 Cups of Whole Wheat Panko (or more as needed)
Sea Salt, Fresh Ground Pepper, and Red Chile Flakes
Olive Oil Cooking Spray
Assembly:
Preheat oven to 425 degrees. Place baking sheet on upper rack of oven.


Cut avocado in quarters. Remove each quarter from pit. Remove skin. Cut each quarter in half.


Place egg whites in shallow bowl. Whisk to combine well.


Place panko on wide plate. Season with sea salt, fresh ground pepper, and chile flakes.


Turn avocado wedges in egg white. Coat in seasoned panko. Press panko slightly onto wedges to help it adhere. Set aside. Remove preheated baking sheet from oven. Place panko coated avocado wedges on baking sheet. Spray lightly with olive oil cooking spray. Bake for 10 minutes or until nicely browned and crispy.


Serve immediately with avocado chipotle crema from Chicken Chipotle Taco recipe. Also delicious with homemade ketchup or with dip of your choice.


Blue Heron Promotions Inc. © 2017. All rights reserved. Mobius Designs
Designed by: