Avocado Gallette with Pistachio Pastry
Pastry Ingredients:
½ Cup of Shelled Pistachios
2 ½ Cups of Unbleached Flour
1 Tsp. of Kosher salt
1 Tsp. of sugar
1 Cup of Chilled Unsalted Butter (Cut in 1 Tbs. Pieces)
½ Cup of Ice water
Assembly:
Pulse pistachios in bowl of food processor fitted with metal blade until coarsely chopped.


Add flour, salt, and sugar and pulse to combine.


Add butter and pulse until a coarse meal forms.


With motor running, gradually pour ice water into pistachio mixture. Process until dough comes together.


Transfer dough to work surface. Form into a ball. Flatten into a disk. Wrap in Saran Wrap and refrigerate for at least 30 minutes.


When ready to assemble, divide dough into 4 pieces. Roll each piece into an 8" circle. Place prepared dough on a parchment lined baking sheet.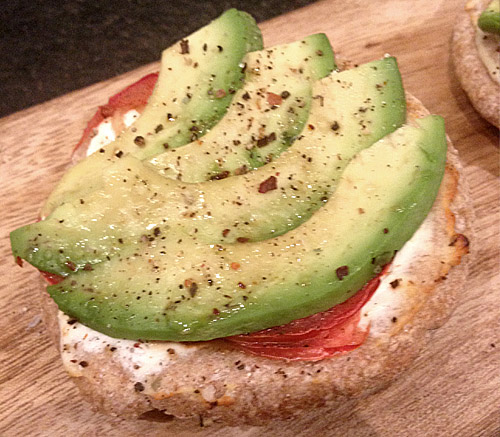 Filling Ingredients:
4 oz. of Soft Goat Cheese
5 Tbs. of Greek Yogurt
2 Cloves of Crushed Garlic
2 Leeks (White, and light green part only, well cleaned, and thinly sliced)
2 Ripe Avocados (Pitted, Peeled, and Sliced)
2 Large Vine Ripened Tomatoes, Sliced (optional)
Sea Salt and Fresh Ground Pepper to taste (Ground Red Pepper Flakes, optional)
½ Cup of Coarsely Chopped Shelled Pistachios
Assembly:
Preheat oven to 400 degrees.


Sautee sliced leeks in 1 Tbs. of butter until translucent.


Combine goat cheese, yogurt, garlic, sea salt, and pepper in small bowl. Combine well until creamy.


Spread goat cheese mixture on prepared crusts. Sprinkle with sautéed leeks. Top with optional sliced tomato. Season with sea salt and fresh ground pepper.


Fold edges of crust over outer edge of filling. Crimp crust around edges. Place on upper rack of preheated 400 degree oven. Bake for approximately 35 minutes until crust is nicely browned. Remove from oven. Set on a rack to cool slightly.


Top with sliced avocado, season with sea salt, fresh ground pepper, and optional ground red pepper flakes. Sprinkle with chopped pistachios


*Variation. If you want to make a very fast version of this "take on avocado toast", substitute mini whole wheat pitas for the pistachio pastry. Assemble and bake as above. Reduce cooking time to approximately 15 minutes until filling is warmed through and pitas are crispy.


Blue Heron Promotions Inc. © 2017. All rights reserved. Mobius Designs
Designed by: