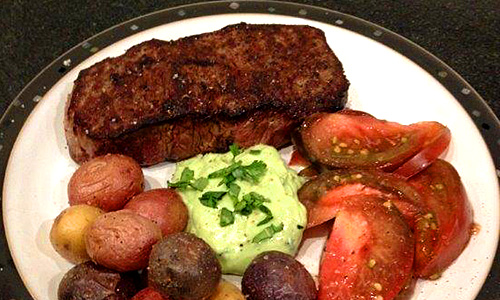 Seared Steak with Herbed Avocado
4 - 8oz. Strip Loin Steaks
2 Large, Ripe Avocados
1 Shallot
2 Tbs. of Champagne or White Wine Vinegar
1 Tbs. of Lemon Juice
3/4 Cup of Plain Goat's Yogurt or Greek Yogurt
2 Tbs. of Olive Oil
2 Tbs. of Chopped Fresh Arugula
2 Tbs. of Chopped Fresh Cilantro
Assembly:
Finely chop shallot. Combine shallot, vinegar, and lemon juice in small bowl. Season with sea salt and let stand for 20 minutes to pickle slightly.


Halve, peel, remove seed, and dice avocados. Add to bowl of food processor equipped with metal blade. Process until smooth. Add yogurt, oil, and pickled shallot with pickling liquid. Pulse to combine. Season with sea salt to taste.


Remove to small bowl and fold in fresh, chopped herbs. Taste and adjust seasonings and add additional lemon juice if desired. Set aside.


Remove excess fat from steaks. Pat dry with paper towels. Season well on both sides with sea salt and fresh ground pepper.


Place heavy bottomed pan, preferably cast iron, over high heat. Add 1 Tbs. of butter to pan. Heat pan until butter is melted and pan is very hot. Add steaks and sear approximately three minutes per side, depending on thickness of steak, until nicely crusted. Remove steaks from pan and set aside for 15 minutes to rest. Serve with herbed avocado and roasted vegetables of choice.


*Herbed avocado is also delicious served with other meats, chicken, and seafood or used as a spicy substitute for mayonnaise.
Blue Heron Promotions Inc. © 2017. All rights reserved. Mobius Designs
Designed by: