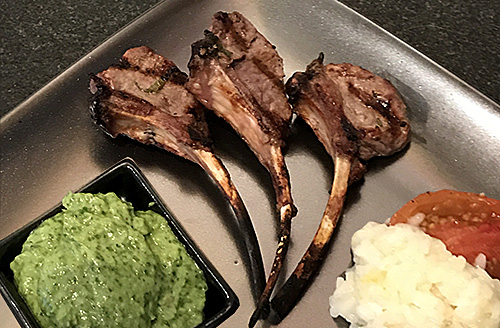 Grilled Rack of Lamb with Avocado Chimichurri
2 Racks of Lamb
2 Tbs. of Olive Oil
4 Tbs. of Dry Red Wine
2 Tbs. of Lime Juice
1 Tbs. of Dijon Mustard
2 Tbs. of Soya Sauce
2 Cloves of Crushed Garlic
2 Tbs. of Fresh Chopped Mint
Fresh Ground Pepper
Assembly:
Meticulously trim all fat and sinew from lamb racks. Separate lamb ribs by cutting between ribs with very sharp knife.


Place all marinade ingredients in pyrex or ceramic dish. Whisk well to combine ingredients.


Place individual lamb ribs in marinade. Turn to coat. Allow to marinate at room temperature for one hour or cover and place in fridge to marinate for four to six hours. Lamb and marinade ingredients can also be placed in a Ziploc bag. Turn individual ribs or Ziploc bag occasionally to distribute marinade evenly.


Heat barbecue to high or set cast iron grill pan over high heat. Remove from marinade and place lamb ribs on hot grill.


Grill approximately two minutes each side until grill marks have appeared and lamb is medium rare.


Avocado Chimichurri Sauce
1 cup of arugula
1 Tbs. of fresh mint
1 Tbs. of lime juice
1 Tbs. of champagne or white wine vinegar
1 minced shallot
2 crushed cloves of garlic
1/4 cup of olive oil or avocado oil
1/2 ripe avocado, peeled, seeded, and diced
Assembly:
Place all ingredients in bowl of food processor fitted with metal blade..


Process until all ingredients are pureed.


Season to taste with sea salt and fresh ground pepper.


Fresh herbs can be varied in Chimichurri. Substitute arugula for parsley and cilantro. Substitute mint for oregano or basil to vary flavours.


Blue Heron Promotions Inc. © 2017. All rights reserved. Mobius Designs
Designed by: