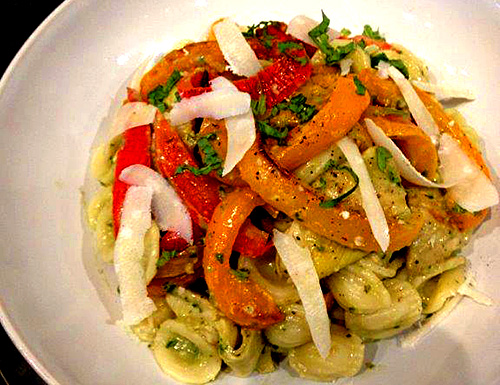 Pasta with Avocado Pesto
1 Large, Ripe Avocado
2 Tbs. of Lemon Juice
1/2 Cup of Chopped Fresh Basil
2 Tbs. of Fresh Grated Parmesan Cheese
2 Cloves of Garlic
1/4 Cup of Olive Oil
Sea Salt and Fresh Ground Pepper to Taste
Sprinkling of Red Pepper Flakes (optional)
1 Can of Artichoke Hearts
1 Red, I Yellow, and 1 Orange Bell Pepper
1-8 Ounce Package of Pasta
Fresh Chopped Basil (for garnish)
Shaved Fresh Parmesan Cheese (for garnish)
Assembly:
Preheat oven to 425 degrees. Place baking sheet on top rack of oven.


Place 2 Tbs. of olive oil, season with sea salt and fresh ground pepper. Seed and slice peppers. Drain artichokes, rinse well and pat dry with paper towels. Toss peppers and artichokes in olive oil. Toss to coat.


Place vegetables on preheated baking sheet. Bake for 10 minutes. Remove baking sheet from oven and turn vegetables. Return pan to oven for another 10 minutes until vegetables are slightly browned. Remove from oven and set aside.


While vegetables are roasting, prepare the avocado pesto. Peel, remove seed, and dice avocado. Place in bowl of food processor with the lemon juice, basil, parmesan, garlic, and olive oil. Process until creamy. Season to taste with sea salt and fresh ground pepper. Add optional red pepper flakes.


Bring large pot of water to hard boil. Add I Tsp. of Kosher salt. Add pasta and boil until al dente approximately 8- 10 minutes. Reserve 2 Tbs. of pasta cooking liquid. Drain pasta. Toss pasta with pesto and roasted vegetables. If desired, add pasta cooking liquid to tossed pasta to thin sauce slightly. Garnish with fresh chopped basil and shaved parmesan.


Blue Heron Promotions Inc. © 2017. All rights reserved. Mobius Designs
Designed by: