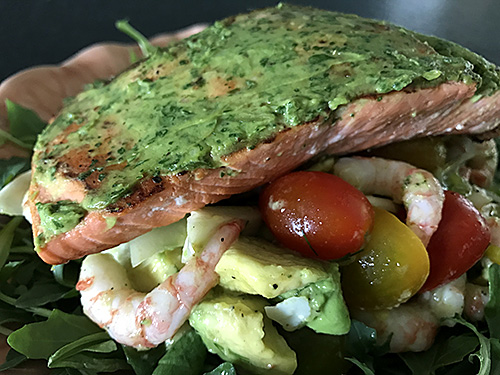 Grilled Salmon with Avocado and Watercress Butter
Ingredients:
6 Fresh Spring or Sockeye Salmon Fillets (middle pieces, not thin end pieces)
* Only purchase fresh seafood from a reputable seafood store- supermarkets are often not reliable.
Fresh fish should not "smell" like fish.
Marinade:
2 Tbs. of Olive Oil
2 Tbs. of Vermouth or Dry White Wine
2 Tbs. of Fresh Lime Juice
Avocado and Watercress Butter:
1 Cup of Chopped Watercress leaves (substitute arugula if watercress not available)
2 Tbs. of Chopped Fresh Oregano
1 Tbs. Diced Shallots
1 Tbs. of Fresh Lime Juice
4 Tbs. of pureed Avocado
1 Tbs. of Dijon Mustard
Sea Salt and Fresh Ground Pepper to Taste
Assembly:
Combine marinade ingredients in ceramic or Pyrex baking dish. Thoroughly wash salmon under cold running water. Pat dry on paper towels.


Remove skin from salmon with sharp knife. Sprinkle both sides liberally with sea salt and fresh ground pepper. .


Place salmon fillets in marinade. Turn to coat. Allow to marinate at room temperature for up to an hour turning occasionally. Salmon will start to cook slightly in lime juice.


Place all of watercress and avocado butter ingredients in bowl of food processor equipped with metal blade. Process until well combined.


Heat barbecue or cast iron grill pan over high heat. Place salmon on hot grill top side down (not side that skin has been removed from) and allow to cook approximately three minutes on one side until it does not stick to the grill and flips easily.


Turn fillets and dot with watercress butter. Cook until watercress and avocado butter softens and salmon surface is just opaque, approximately three to four minutes.


Cooking time will depend on thickness of fillets. Do not overcook or it will be dry. It can always be returned to grill if it is slightly under done. Spread watercress and avocado butter evenly on top of salmon fillets.


* Dress any leftovers with lemon or champagne vinaigrette and toss with leftover vegetables for a fantastic salmon salad.
Blue Heron Promotions Inc. © 2017. All rights reserved. Mobius Designs
Designed by: