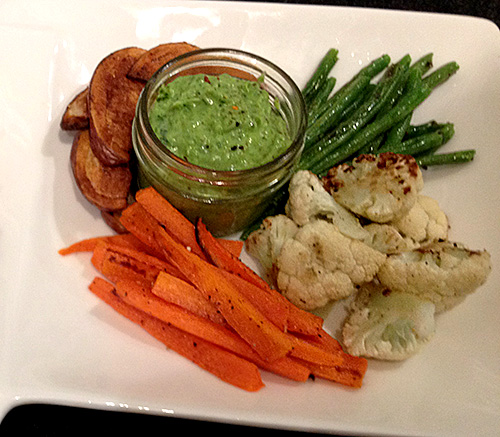 Roasted Vegetables with Avocado and Spinach Dip
1 Avocado (peeled, pitted, and diced)
1 Tbs. Shallot (finely diced)
½ Cup of Buttermilk
½ Cup of Fresh Chopped Basil
1 Cup of Fresh Spinach (coarsely chopped)
2 Tbs. of Sliced Fresh Chives
2 Tbs. of Champagne or White Wine Vinegar
Sea Salt and Fresh Ground Pepper to Taste
Selection of Fresh Sliced Vegetables (Carrots, Cauliflower, Green Beans, Asparagus)
2 Tbs. of Olive Oil
Fresh Sea Salt and Ground Pepper (Ground Red Pepper flakes, optional)
Assembly:
Combine all ingredients except vegetables in a Food Processor fitted with a metal blade. Process until well combined and creamy. Season to taste with sea salt and fresh ground pepper. Refrigerate until ready to use.


Preheat oven to 425 degrees and place baking sheet in oven.


Prepare vegetables. Slice carrots in strips, break cauliflower into florets, snap ends off green beans and asparagus. Remove core from fennel and slice. Add any other vegetables of choice that roast well, like peppers or broccoli.


Place olive oil in large bowl. Season with sea salt, pepper, and optional red pepper flakes. Add prepared vegetables and toss well to coat.


Remove preheated baking sheet from oven. Add vegetables and roast for 10 minutes until crisp, tender.


Remove from baking sheet and cool. Arrange attractively on serving tray and serve with avocado, spinach dip.


Blue Heron Promotions Inc. © 2017. All rights reserved. Mobius Designs
Designed by: