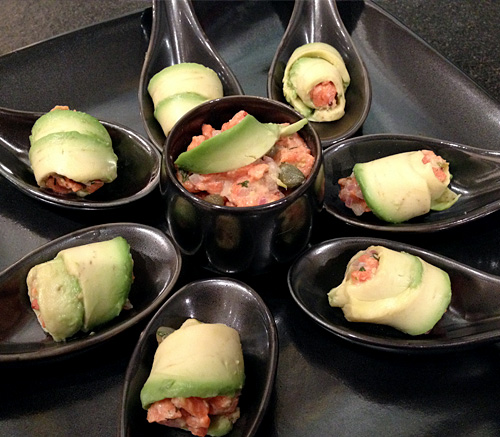 Avocado and Salmon Tartare Sushi Rolls
Ingredients:
½ Pound Good Quality Fresh Sockeye Salmon Fillet (skinless)
*only purchase fresh seafood from a reputable fish market
2 Tbs. Fresh Lime Juice
1 Tsp. Grated Lime Rind
2 Tbs. Minced Shallots
2 Tsp. Olive Oil
1 Tbs. Minced Fresh Dill
1 Tbs. Capers (rinsed, drained, and patted dry)
2 Tsp. Dijon Mustard
1 Tsp. Grainy Meaux Mustard
Sea Salt and Fresh Ground Pepper to Taste
2 Large Ripe Avocadoes
Assembly:
Rinse salmon fillet under cold running water. Pat dry with paper towels.


Finely dice salmon.


Add all above ingredients except avocado. Toss to mix gently.


Season to taste with sea salt and fresh ground pepper. Cover with saran wrap and refrigerate for one hour or more.


Lay a sheet of saran wrap on a sushi roller. Peel, seed, and thinly slice the avocado.


Lay two slices of avocado on saran wrap, place 1 tsp. of salmon tartare in centre. Roll gently to enclose salmon tartare.


Carefully remove roll and place in oriental serving spoon. Continue rolling salmon and avocado.


Do not assemble more than 20 minutes before serving or avocado will discolour. Cover tray with saran wrap and refrigerate until serving.

*Variation. One avocado can be diced and added directly to the salmon tartare and gently mixed in rather than rolling the salmon tartare in the avocado slices. Serve with toast points or good quality multi grain crackers.
Blue Heron Promotions Inc. © 2017. All rights reserved. Mobius Designs
Designed by: