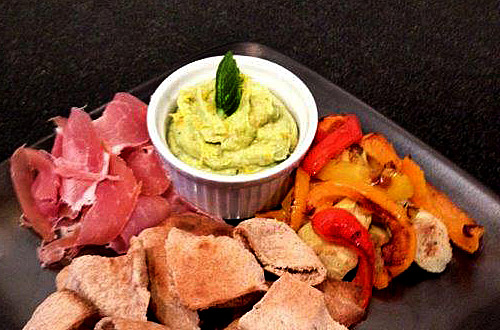 Avocado and White Bean Dip
1 Can of White Kidney Beans
1 Large Avocado, peeled, seed removed, and diced
2 Cloves of Crushed Garlic
2 Tbs. of Fresh Chopped Basil
1 Tsp. of Grated Lemon Rind
3 Tbs. of Lemon Juice
6 Tbs. of Olive Oil
Sea Salt and Fresh Ground Pepper
Assembly:
Rinse kidney beans well under cold running water. Pat dry with paper towels.


Place all above ingredients in bowl of food processor fitted with metal blade. Process until smooth and creamy. Taste and adjust seasonings. Add additional sea salt and lemon juice to taste. Add additional olive oil if a creamier consistency is desired.


*Flavour can be varied by substituting cilantro for the basil, lime juice and grated lime rind for the lemon juice and grated lemon rind, and adding 1 Tbs. of chopped fresh Fresno or Jalapeno peppers with seeds removed. This Mexican version is delicious spread on tortillas under your favourite taco filling.
Blue Heron Promotions Inc. © 2017. All rights reserved. Mobius Designs
Designed by: