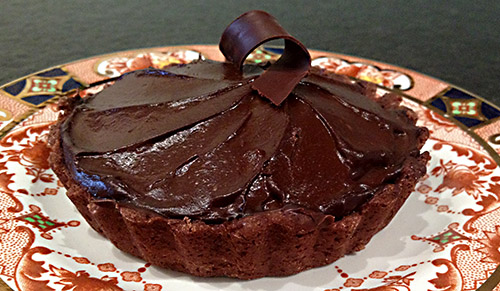 Avocado Chocolate Tart
Tart Shell Ingredients:
1/4 Cup Unsweetened Cocoa Powder
1/4 Cup Granulated Sugar
1 Cup Unbleached All Purpose Flour
1/2 Cup Chilled Butter
1 Egg Yolk
1 Cup Semi-Sweet Chocolate Chips
Assembly:
Preheat oven to 325 degrees. Place cocoa, sugar, and flour in bowl of food processor fitted with metal blade. Blend until well combined. Add chilled butter cut in 1 Tbs. chunks. Process with on and off motion until mixture resembles coarse meal. Add egg yolk and process until mixture holds together.


Place dough in either one large or six individual fluted removable bottom tart shell pans. Press mixture into bottom and up sides of tart shells. Prick dough with tines of fork on bottom and sides. Bake on upper rack of preheated 325 degree oven for 30 minutes. Place on wire racks to cool completely.


Melt chocolate chips in top of double boiler over simmering water. Melt chocolate, stirring constantly. Remove chocolate from heat as soon as it is melted. Paint bottom and sides of tart shell with melted chocolate. Set aside for chocolate to harden. The chocolate can be hardened more quickly by placing in freezer for 10 minutes.


Chocolate Filling Ingredients:
2 Large Ripe Avocados (pitted, peeled, and cubed)
1/2 Cup Unsweetened Cocoa Powder
1/2 Cup Brown Sugar
1/3 Cup Coconut Milk or Whipping Cream
1 Tsp. Vanilla Extract
1 Tbs. Instant Coffee Granules (optional)
Assembly:
Place cubed avocado and cocoa powder in bowl of food processor fitted with metal blade. Process, stopping to scrape down sides of work bowl, until mixture is creamy. Add coconut milk (well blended with a whisk to remove any lumps) or whipping cream to work bowl. If desired, dissolve optional coffee granules in coconut milk or whipping cream before adding to work bowl to impart coffee flavour to avocado mixture. Process until well combined. Add brown sugar (sifted to remove any lumps) and vanilla to work bowl. Process until mixture is smooth and creamy.


Place chocolate, avocado mixture in cooled, prepared tart shells smoothing tops with spatula. Cover with saran wrap and refrigerate until ready to serve. Garnish with shaved chocolate (Grate a cube of good quality semi-sweetened chocolate on box grater or use potato peeler to shave chocolate curls from cube of semi-sweetened chocolate.) If desired, serve with mocha whipped cream.
* Filling is also delicious served on its own without the crust.
Mocha Whipped Cream:
Place small high sided bowl and beaters in fridge to cool. Place 1 cup of whipping cream, 1 Tbs. of instant coffee, and 1 Tbs. of sugar into chilled bowl. Beat at high speed until cream forms soft peaks.

*Tea towel can be placed over top of bowl when whipping cream to avoid splatters.


Blue Heron Promotions Inc. © 2017. All rights reserved. Mobius Designs
Designed by: