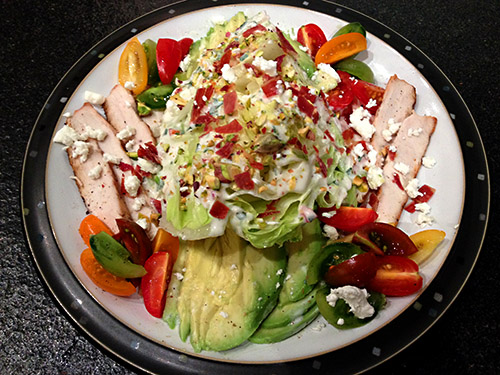 Cobb Salad My Way
Ingredients:
Dressing:
1/2 Small Garlic Clove Crushed
2 Tsp. Diced Red Fresno Chile
1 Tbs. Diced Green Onion
2 Tsp. Minced Shallot
2 Tsp. Chopped Fresh Parsley
2 Tsp. Chopped Fresh Cilantro or Chopped Fresh Dill
1 Tsp. Lemon Juice
6 Tbs. 1% Buttermilk
1/4 Cup Olive Oil Mayonnaise
2 Tbs. Goats Yogurt
Sea Salt and Fresh Ground Pepper to taste
Whisk together all above ingredients until smooth and creamy.
Salad:
4 Boneless, Skinless Chicken Breasts
2 Tbs. Olive Oil
2 Slices Thinly Sliced Prosciutto
2 Avocados Peeled and Sliced
2 Cups Red and Yellow Grape Tomatoes
1 Head Iceberg Lettuce
2 Tbs. Crumbled Goats Cheese
1/4 Cup Chopped Pistachios
Sea Salt and Fresh Ground Pepper to taste
Assembly:
Rinse chicken breasts under cold running water. Pat dry on paper towels. Trim excess fat and sinew from chicken. Lightly coat trimmed chicken breasts with olive oil. Sprinkle liberally with sea salt and fresh ground pepper.


Heat barbecue or grill pan to high heat. Grill chicken breasts until nicely browned and cooked through. Approximately four minutes per side. Set aside to cool and then slice thinly.


Preheat oven to 325 degrees. Place prosciutto on baking sheet. Bake for eight to ten minutes until crispy. Remove from oven and place on paper towels to remove excess fat. Set aside to cool. Coarsely chop when cool.


Cut Iceberg lettuce into quarters. Remove core and excess loose outer leaves.


Place iceberg lettuce wedge in centre of plate. Surround with sliced chicken, avocado, and tomatoes. Drizzle with dressing. Sprinkle with chopped prosciutto, pistachios, and goat cheese. Season with sea salt and fresh ground pepper.


* Also delicious served with grilled salmon rather than chicken.


Blue Heron Promotions Inc. © 2017. All rights reserved. Mobius Designs
Designed by: