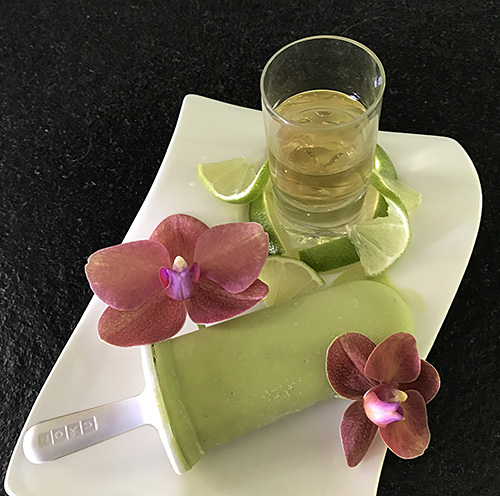 Adult Avocado Ice Pops
Ingredients:
1 Cup of Water
1/2 Cup of White Sugar
1 Lime (juiced)
1/4 Tsp. of Salt
4 Tbs. of Cocoa Powder
4 Tbs. of Tequila
3 Avocados (peeled, seed removed, cubed)
Assembly:
Place water and sugar in small saucepan. Bring to boil.


Stir constantly until sugar dissolves. Set aside to cool.


Place avocado in bowl of food processor fitted with a metal blade. Process until smooth and creamy.


Add remaining ingredients. Process until creamy and well combined.


Place in ice pop molds. Freeze until solid for approximately 6 hours.


*Also delicious without tequila or cocoa for a "virgin" avocado flavour. If eliminating cocoa, ensure that there are no air bubbles when filling ice pop molds or avocado will discolour.


Blue Heron Promotions Inc. © 2017. All rights reserved. Mobius Designs
Designed by: