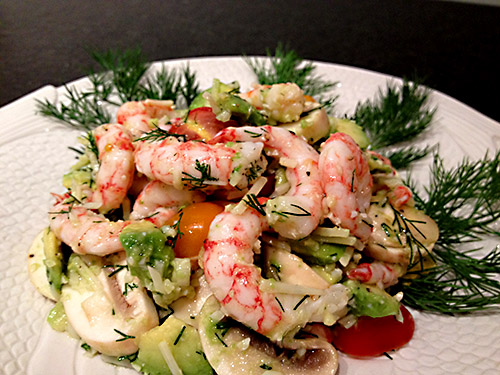 Shrimp and Avocado Salad
Ingredients:
2 Cups Sliced White Mushrooms
1/4 Cup Sliced Green Onion
1 Cup Red and Yellow Grape Tomatoes (cut in half)
*Substitute only red grape tomatoes if yellow are not available
2 Ripe Avocados (diced)
200 Grams of Hand Peeled or Side Striped Shrimp (do not use machine peeled or frozen shrimp which have a much softer texture)
2 Tbs. Fresh Chopped Dill
1/4 Cup of Grated Fresh Asiago or Fresh Parmesan Cheese
4 Tbs. Olive Oil
4 Tbs. Fresh Lemon Juice
Sea Salt and Fresh Ground Pepper to Taste
Assembly:
Place prepared vegetables in bowl. Rinse shrimp well in strainer under cold running water. Pat dry on paper towels. Add to vegetables. Sprinkle with dill and grated cheese.


Add olive oil and lemon juice. Toss lightly to blend. Do not over mix ingredients or avocado will become soft. Season to taste with sea salt and fresh ground pepper.


* Please note. I prefer a strong lemony flavour. Reduce lemon juice if you prefer a more subtle flavour.


Blue Heron Promotions Inc. © 2017. All rights reserved. Mobius Designs
Designed by: